Worship Helps fo r Pentecost 5
Artwork: Joseph and Potiphar's Wife
Worship Theme: Is faithfulness to Christ worth the trouble it brings? The life of faith is lived in a godless world, and it is therefore certain to be met with persecution. Like our Suffering Savior, we too bear his cross in our daily interactions with the unholy trio. The Lord, however, uses these persecutions suffered for the sake of the Gospel to refine us into the pure, precious metal of his children. Strengthened through the means of grace, we boldly confess Jesus as the Christ in the face of any persecution or trouble. The Church prays that God in his mercy would direct the affairs of this world so that the Church might have peace, but at the same time we prepare ourselves for persecution.
Old Testament:

Genesis 39:6 So [Potiphar] left in Joseph's care everything he had; with Joseph in charge, he did not concern himself with anything except the food he ate. Now Joseph was well-built and handsome, 7 and after a while his master's wife took notice of Joseph and said, "Come to bed with me!" 8 But he refused. "With me in charge," he told her, "my master does not concern himself with anything in the house; everything he owns he has entrusted to my care. 9 No one is greater in this house than I am. My master has withheld nothing from me except you, because you are his wife. How then could I do such a wicked thing and sin against God?" 10 And though she spoke to Joseph day after day, he refused to go to bed with her or even be with her. 11 One day he went into the house to attend to his duties, and none of the household servants was inside. 12 She caught him by his cloak and said, "Come to bed with me!" But he left his cloak in her hand and ran out of the house. … She kept his cloak beside her until his master came home. 17 Then she told him this story: "That Hebrew slave you brought us came to me to make sport of me. 18 But as soon as I screamed for help, he left his cloak beside me and ran out of the house." 19 When his master heard the story his wife told him, saying, "This is how your slave treated me," he burned with anger. 20 Joseph's master took him and put him in prison, the place where the king's prisoners were confined. But while Joseph was there in the prison, 21 the LORD was with him; he showed him kindness and granted him favor in the eyes of the prison warden. 22 So the warden put Joseph in charge of all those held in the prison, and he was made responsible for all that was done there. 23 The warden paid no attention to anything under Joseph's care, because the LORD was with Joseph and gave him success in whatever he did.
1. What did Potiphar's wife try to get Joseph, her husband's trusted employee, to do?
2. How did Potiphar, Joseph's master respond?
3. Things went well for Joseph in prison. The lesson for us?
Epistle:

Hebrews 11:24 By faith Moses, when he had grown up, refused to be known as the son of Pharaoh's daughter. 25 He chose to be mistreated along with the people of God rather than to enjoy the pleasures of sin for a short time. 26 He regarded disgrace for the sake of Christ as of greater value than the treasures of Egypt, because he was looking ahead to his reward.
4. When Moses refused to be known any more as the son of Pharaoh's daughter, what result was he choosing?
5. Why did Moses think of disgrace for Christ's sake as more valuable than the treasurers of Egypt?
Gospel:

Luke 9:18 Once when Jesus was praying in private and his disciples were with him, he asked them, "Who do the crowds say I am?" 19 They replied, "Some say John the Baptist; others say Elijah; and still others, that one of the prophets of long ago has come back to life." 20 "But what about you?" he asked. "Who do you say I am?" Peter answered, "The Christ of God." 21 Jesus strictly warned them not to tell this to anyone. 22 And he said, "The Son of Man must suffer many things and be rejected by the elders, chief priests and teachers of the law, and he must be killed and on the third day be raised to life." 23 Then he said to them all: "If anyone would come after me, he must deny himself and take up his cross daily and follow me. 24 For whoever wants to save his life will lose it, but whoever loses his life for me will save it.
6. How did Jesus react when Peter confessed him as God's Anointed One?
7. Why did Jesus say he must suffer many things and must be killed?
8. What will happen to you if you want to save your life? If you lose your life for Jesus?
1. Potiphar's wife tried to get Joseph to have sexual intercourse with her.
2. Potiphar got angry when his wife accused Joseph of trying to make fun of her (and worse). We do not read with whom he was angry, so we should not assume he was angry with Joseph; he may have been angry with his wife. In any case, Joseph was thrown in prison.
3. The way things went well for Joseph in prison—part of the whole story of how God turned bad into good, with Joseph and his family—teaches us to do the right thing always, for God's sake. Following what God says may make us enemies and cause us many troubles, but God's way is the best way. In the end we will see it.
4. By letting everyone know he was an Israelite, Moses deliberately chose to be mistreated.
5. Moses thought of disgrace for Christ's sake as more valuable than the treasures of Egypt because he did not intend to get a reward right away. He was looking ahead to a reward. (Think of what Moses turned his back on. The remains of a minor young pharaoh from that era, Tutankhamun, were found inside a coffin of gold.)
6. See verses 20–21. Jesus warned them not to tell anyone. This may seem odd, until we realize that the disciples did not have a full understanding of Jesus as the Christ, "the Anointed One." They often considered the Christ as one anointed for glory, but Jesus was one who was anointed for suffering.
7. See verse 22. By his suffering and death, Jesus would then conquer sin and death.
8. See verse 24. Whoever wants to save his life will end up losing it. Whoever loses his life will end up gaining life in Jesus.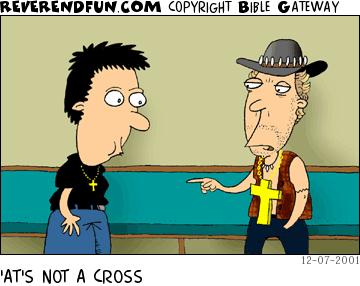 Putting your faith into action
To deny one's self is not easy. Pushing aside our sinful nature is difficult. The plots of many movies and TV shows reflect the old visual effect used in cartoons: the angel on one shoulder and the devil on the other, both whispering into the ear of the subject—one suggesting good behavior, the other suggesting evil. As stewards, that selfishness comes to the surface much too often. Self comes first; God gets the leftovers. Much more time and money is spent on self rather than for God. As an individual I am so convicted by such statements that my reaction is to rise up to defend my choices, my rights. God says, "Leave self behind for once. Act like the steward of the Master's property that you are. Be a servant to the Master's plan for all that he gives into your care. Shoulder his burden, if you can." And there's a promise in there, for even if we use up our whole life in service to the Lord, he will give us a new one that we'll never use up.
There is great need for us to call upon God and to pray, "Dear Father, forgive us our trespasses." It is not as though He did not forgive sin without and even before our prayer. (He has given us the Gospel, in which is pure forgiveness before we prayed or ever thought about it.) But the purpose of this prayer is that we may recognize and receive such forgiveness. The flesh in which we daily live is of such a nature that it neither trusts nor believes God. It is ever active in evil lusts and devices, so that we sin daily in word and deed, by what we do and fail to do. By this the conscience is thrown into unrest, so that it is afraid of God's wrath and displeasure. So it loses the comfort and confidence derived from the Gospel. Therefore, it is always necessary that we receive consolation to comfort the conscience again.
This serves God's purpose of breaking our pride and keeping us humble. God has reserved this right for Himself: if anyone wants to boast of his godliness and despise others, that person is to think about himself and place this prayer before his eyes. He will find that he is no better than others and that in God's presence all must tuck their tails and be glad that they can gain forgiveness. Let no one think that as long as he lives here he can reach such a position that he will not need such forgiveness. In short, if God does not forgive without stopping, we are lost. – The Large Catechism, The Lord's Prayer (paragraphs 88-91)
Hymns for this Sunday:

395; 536; 428; 431; 768
1 How firm a foundation, O saints of the Lord,
Is laid for your faith in his excellent Word!
What more can he say than to you he has said
Who unto the Savior for refuge have fled?
2 "Fear not! I am with you. Oh, be not dismayed;
For I am your God and will still give you aid;
I'll strengthen you, help you, and cause you to stand,
Upheld by my righteous, omnipotent hand.
3 "The soul that on Jesus has leaned for repose
I will not, I will not, desert to his foes.
That soul, though all hell should endeavor to shake,
I'll never, no never, no never forsake!
4 "When through fiery trials your pathway shall lie,
My grace all-sufficient shall be your supply.
The flames will not hurt you; I only design
Your dross to consume and your gold to refine.
5 "Throughout all their lifetime my people shall prove
My sov'reign, eternal, unchangeable love,
And then, when gray hair shall their temples adorn,
Like lambs they shall still on my shoulders be borne."
The beloved words of this hymn are wed to its traditional American melody.
Text: A Selection of Hymns, London, 1787, alt.