Taste and see that the Lord is good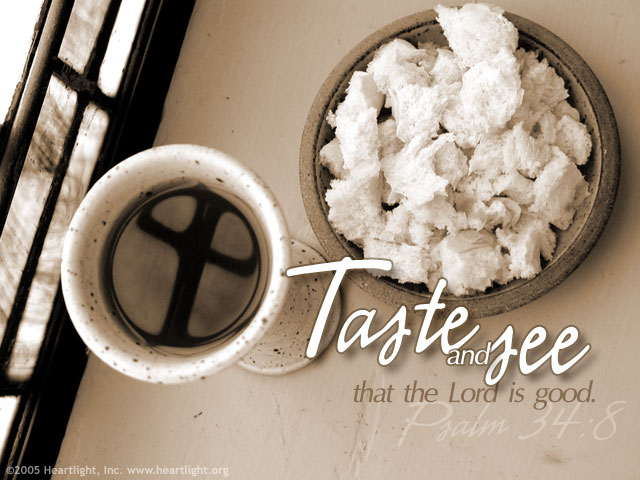 The psalmist encourages us: "Taste
and
see
that the
Lord
is good; blessed is the one who takes refuge in him" (Psalm 34:8).
Perhaps as a child you remember your mother giving you oatmeal, Cream of Wheat, or Malt-O-Meal for breakfast. Your mother may have insisted that you needed food to "stick to your ribs" when you left for school in the morning or to play in the cold and snow.
Your heavenly Father insists that you also need food to "stick to your ribs." Except God's food isn't hot grains for breakfast. Rather, it is His holy Word that you get to taste every time you read your Bible or hear a devotion or listen to a sermon.
The sad truth, however, is that many of us Christians are biblically illiterate. We don't really know what God's Word says. That's because our appetites aren't for the eternal and life-giving words of God, but rather for the trivial and novel ideas on Facebook or Pinterest. We find it difficult to spend an hour in God's house for worship, but have no trouble spending four hours in front of the TV for a football game. We bemoan the fact that our children are having their morals battered in music, TV and movies, but that happens because we are not faithful in instilling God's morals into their hearts by being in God's Word daily with them.

St. Paul reveals that "faith comes by hearing and hearing by the word of Christ" (Romans 10:17). These are the words of Christ that stick to our ribs, stick in our ears, stick in our mouths, stick in our hearts, and stick in our faith.
Join with me in reading God's Word daily to taste and see that the Lord is good.
To help you with hearing God's Word so that it sticks to your ribs, I have included a number of resources for your daily growth in faith in this New Year. These resources will aid you in becoming Bible literate and teaching the faith to your children.
You can also sign up for daily devotionals in your email.
These are the devotions that I receive on a daily basis. You can also read them on Epiphany's Facebook page. If you read them on Facebook, please like and share them so that others may taste and see that the Lord is good.