Worship Help for Lent 3
John the Baptist pointed to Jesus and declared to his disciples, "Look, the Lamb of God who takes away the sin of the world" (John 1:29). Just before we participate in the Wedding Feast of the Lamb in the Lord's Supper, we sing, "O Christ, Lamb of God, you take away the sin of the world, have mercy on us" (Agnus Dei in the Service of Word and Sacrament).
We sing about the Lamb. We hear about the Lamb. We taste the Lamb. We often see images of the Lamb in our churches … but not quite like the image that Jonathan Mayer has created.
Jonathan is a young, Lutheran artist whose art is filled with both symbolism and realism. You can check out Jonathan's artwork at his website, Scapegoat Studio or on Facebook.
I asked Jonathan for his inspiration for creating his Behold the Lamb of God painting. He mentioned to me that Behold the Lamb of God did not come to him with a flash of inspiration. Rather, it came about in small steps with a lot of time and effort. You can examine some of his first sketches from his sketchbook to see the progression of where he started to where he finished.
Jonathan explains the process of creating this unique piece of art: "In January of 2010, I was illustrating my way through the sections of 'Messiah: the Greatest Sermon Ever Sung.' Part II of the oratorio opens with the words of John the Baptist in John 1:29. As a set of general goals for the book, I wanted the artwork to point to Christ, and also to reflect both the content and the expressive nature of Handel's music. This involved listening to the music and reading the biblical texts over and over while I sketched and brainstormed. Between John 1:29 and Isaiah 53, there was no escaping this image of a lamb led to the slaughter."
Jonathan used as his inspiration the classical painting of the bound lamb prepared for sacrifice entitled "Agnus Dei" by Francisco Zubaran, a Spanish Baroque painter.
Jonathan continues to explain the connection between the music and the painting: "Early on, I only knew that I needed something striking. I have always liked Baroque painting, and the way that it casts dramatic lighting on figures against a dark background. The music in this section of 'Messiah' is both dramatic and contemplative, and it seemed to fit the feel of a Baroque painting—spotlit on an oppressively dark stage. I started thinking about that metaphor of the Paschal lamb—not just bound and silent, but actually slaughtered. I looked on the internet for reference photos of lambs being slaughtered, and it was a ghastly sight. Vibrant red blood gushed across the pavement like a river as the animal bled to death, its feet bound together. If I was looking for striking or 'edgy,' that was it. My first thumbnail sketches were vertical compositions; a spotlight shined down on a slaughtered lamb, and the blood spilled out, filling most of the frame."
He then cut out a representation of the continents and placed them underneath the blood, so the blood would be covering it. Jonathan commented on this process: "As soon as I did it, I knew it looked wrong. And almost just as suddenly, a solution presented itself. … The continents became the blood. Instead of overlapping different symbolic elements, the blood became the cause and the effect all at once. The sin of the world was the cause of Christ's death; the blood of Christ paid for it."
The blood of the Lamb shed for the sins of the world. What a powerful image Jonathan has created for us. It is all about the blood of the Lamb. We thank God for it. We are forgiven by it. We sing about it. We preach about it. We taste it. … And now, in this symbolic and realistic image, we are able to visualize all of John 1:29 – we behold the Lamb of God who takes away the sin of the world.
Worship Theme: The light of the world brings sight to the blind and judgment to the blinded. Faith means seeing Jesus as Savior: like the bronze serpent, we look on him and live. We were born in the blindness of sin, and without the light of Christ we could not find a way to safety. Christ comes to shine his light into our darkened eyes that we might see him and live. Yet for those who refuse to see their Savior in Christ, the blindness of unbelief remains. He gives gracious sight to the blind who trust in him; he gives blinding judgment on those who reject him; finally, he displays the work of God in the lives of those who now walk in the light of Christ.
Old Testament:

Isaiah 42:14-21 "For a long time I have kept silent, I have been quiet and held myself back. But now, like a woman in childbirth, I cry out, I gasp and pant. 15 I will lay waste the mountains and hills and dry up all their vegetation; I will turn rivers into islands and dry up the pools. 16 I will lead the blind by ways they have not known, along unfamiliar paths I will guide them; I will turn the darkness into light before them and make the rough places smooth. These are the things I will do; I will not forsake them. 17 But those who trust in idols, who say to images, 'You are our gods,' will be turned back in utter shame. 18 "Hear, you deaf; look, you blind, and see! 19 Who is blind but my servant, and deaf like the messenger I send? Who is blind like the one committed to me, blind like the servant of the LORD? 20 You have seen many things, but have paid no attention; your ears are open, but you hear nothing." 21 It pleased the LORD for the sake of his righteousness to make his law great and glorious.
1. Who is the servant of the Lord? (verse 19)
2. In what ways was this "servant" blind?
3. What promises does God give regarding these blind servants?
Epistle:

Ephesians 5:8-14 For you were once darkness, but now you are light in the Lord. Live as children of light 9 (for the fruit of the light consists in all goodness, righteousness and truth) 10 and find out what pleases the Lord. 11 Have nothing to do with the fruitless deeds of darkness, but rather expose them. 12 For it is shameful even to mention what the disobedient do in secret. 13 But everything exposed by the light becomes visible, 14 for it is light that makes everything visible. This is why it is said: "Wake up, O sleeper, rise from the dead, and Christ will shine on you."
4. How has our life changed now that we are found in the light?
5. What is our role to be regarding those still in darkness?
Gospel:

John 9:1-7,13-17,34-39 As he went along, he saw a man blind from birth. 2 His disciples asked him, "Rabbi, who sinned, this man or his parents, that he was born blind?" 3 "Neither this man nor his parents sinned," said Jesus, "but this happened so that the work of God might be displayed in his life. 4 As long as it is day, we must do the work of him who sent me. Night is coming, when no one can work. 5 While I am in the world, I am the light of the world." 6 Having said this, he spit on the ground, made some mud with the saliva, and put it on the man's eyes. 7 "Go," he told him, "wash in the Pool of Siloam" (this word means Sent). So the man went and washed, and came home seeing. … 13 They brought to the Pharisees the man who had been blind. 14 Now the day on which Jesus had made the mud and opened the man's eyes was a Sabbath. 15 Therefore the Pharisees also asked him how he had received his sight. "He put mud on my eyes," the man replied, "and I washed, and now I see." 16 Some of the Pharisees said, "This man is not from God, for he does not keep the Sabbath." But others asked, "How can a sinner do such miraculous signs?" So they were divided. 17 Finally they turned again to the blind man, "What have you to say about him? It was your eyes he opened." The man replied, "He is a prophet." … 34 To this they replied, "You were steeped in sin at birth; how dare you lecture us!" And they threw him out. 35 Jesus heard that they had thrown him out, and when he found him, he said, "Do you believe in the Son of Man?" 36 "Who is he, sir?" the man asked. "Tell me so that I may believe in him." 37 Jesus said, "You have now seen him; in fact, he is the one speaking with you." 38 Then the man said, "Lord, I believe," and he worshiped him. 39 Jesus said, "For judgment I have come into this world, so that the blind will see and those who see will become blind."
6. Restoring this man's physical sight is a metaphor for what other change that occurred?
7. How is our reception of spiritual sight seen in this man's experience?
2. Israel's history shows a distinct ignorance of the obvious. Consider how often Israel complained while wandering in the wilderness, many times just shortly after God's amazing display of providence and protection. Most sadly, many of God's chosen people disregarded his promise of a spiritual Savior and would miss seeing Jesus, the fulfillment of that promise.
3. He says, "I will lead the blind…turn the darkness into light…I will not forsake them." (v16) What patience! What grace!
4.

No longer is our life filled with the "fruitless deeds of darkness," (compare Galatians 5:19-21); rather we are now concerned with doing that "which pleases the Lord." (Compare Galatians 5:22-23).
5.

We are to be the law-bearers and expose those fruitless deeds of darkness in those around us, not dwelling on those evils. We must also be gospel-bearers, offering full and free forgiveness to those who hear our message!
6. This man had more importantly received spiritual sight, that is, faith in Christ.
7. This man's understanding of Jesus progressed from seeing him as a man (verse 11) to a prophet (verse 17) to one worthy of being followed (verse 27) to one who was "from God" (verse 33) to worship (verse 38). So our understanding of Jesus also grows as we learn more of what he has said and done through study of his Word. Our faith is strengthened; our spiritual sight is made more acute.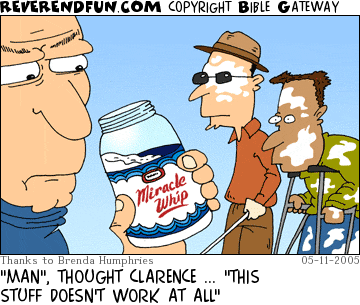 Putting your faith into action
Jesus did miracles for various reasons. In this reading, Jesus healed this blind man "so that the work of God might be displayed in his life." While those who hated Jesus relentlessly kept coming back to the healed man to somehow intimidate him to say that Jesus was a sinner like the rest of us, his answer was unwavering, "I was blind but now I see." We see too—with the eyes of faith. The one we see is the one who has given us the ability to see. The blind man was grateful to the healer. He wanted to worship. There is no difference with us. Spend time to worship him who gives you the ability to see.
61] Job is excused that he was not afflicted on account of past evil deeds; therefore afflictions are not always punishments or signs of wrath. Yea, terrified consciences are to be taught that other ends of afflictions are more important [that they should learn to regard troubles far differently, namely, as signs of grace], lest they think that they are rejected by God when in afflictions they see nothing but God's punishment and anger. The other more important ends are to be considered, namely, that God is doing His strange work so that He may be able to do His own work, etc., as Isaiah 28:1ff teaches in a long discourse. 62] And when the disciples asked concerning the blind man who sinned, John 9:2-3, Christ replies that the cause of his blindness is not sin, but that the works of God should be made manifest in him. And in Jeremiah 49:12, it is said: They whose judgment was not to drink of the cup have assuredly drunken. Thus the prophets and John the Baptist and other saints were killed. 63] Therefore afflictions are not always punishments for certain past deeds, but they are the works of God, intended for our profit, and that the power of God might be made more manifest in our weakness [how He can help in the midst of death].
Thus Paul says, 2 Cor. 12:5,9: The strength of God is made perfect in my weakness. Therefore, because of God's will, our bodies ought to be sacrifices, to declare our obedience [and patience], and not to compensate for eternal death, for which God has another price, namely, 64] the death of His own Son. And in this sense Gregory interprets even the punishment of David when he says: If God on account of that sin had threatened that he, would thus be humbled by his son, why, when the sin was forgiven, did He fulfil that which He had threatened against him? The reply is that this remission was made that man might not be hindered from receiving eternal life, but that the example of the threatening followed, in order that the piety of the man might be exercised and tested even in this humility. Thus also God inflicted upon man death of body on account of sin, and after the remission of sins He did not remove it, for the sake of exercising justice, namely, in order that the righteousness of those who are sanctified might be exercised and tested. – Defense of the Augsburg Confession, Article VI, Of Confession and Satisfaction (paragraphs 61-64)
Hymns: 367; 343; 742; 379
1 Amazing grace—how sweet the sound—That saved a wretch like me!
I once was lost but now am found, Was blind but now I see.
2 The Lord has promised good to me; His Word my hope secures.
He will my shield and portion be As long as life endures.
3 Through many dangers, toils, and snares I have already come;
'Tis grace has brought me safe thus far, And grace will lead me home.
4 When we've been there ten thousand years, Bright shining as the sun,
We've no less days to sing God's praise Than when we'd first begun.
Text: John Newton, 1725–1807, st. 1-3, abr.; John P. Rees, 19th century, st. 4.