Worship Helps for Easter 5
Artwork: Jesus Christ Washing His Disciples Feet
Worship Theme: Music from the Masters…Motivational speakers… Chicken Soup for the Soul… People look for a boost from many sources. But one need only look as far as the risen Savior. He inspires us not through soothing songs or moving stories, but through his perfect life and sacrificial death. Our risen Lord energizes us to live lives of love.
Old Testament:

1 Samuel Then Jonathan said to David: "By the LORD, the God of Israel, I will surely sound out my father by this time the day after tomorrow! If he is favorably disposed toward you, will I not send you word and let you know? 13 But if my father is inclined to harm you, may the LORD deal with me, be it ever so severely, if I do not let you know and send you away safely. May the LORD be with you as he has been with my father. 14 But show me unfailing kindness like that of the LORD as long as I live, so that I may not be killed, 15 and do not ever cut off your kindness from my family-- not even when the LORD has cut off every one of David's enemies from the face of the earth." 16 So Jonathan made a covenant with the house of David, saying, "May the LORD call David's enemies to account." 17 And Jonathan had David reaffirm his oath out of love for him, because he loved him as he loved himself.
1. In this account, which two friends were knit together in a tight bond of love?
2. In this account, what name does Jonathan say in each verse in which he speaks? Why is this notable?
3. What did Jonathan ask David to show toward him when David took over Saul's throne in years to come?
Epistle:

Revelation 21:1 Then I saw a new heaven and a new earth, for the first heaven and the first earth had passed away, and there was no longer any sea. 2 I saw the Holy City, the new Jerusalem, coming down out of heaven from God, prepared as a bride beautifully dressed for her husband. 3 And I heard a loud voice from the throne saying, "Now the dwelling of God is with men, and he will live with them. They will be his people, and God himself will be with them and be their God. 4 He will wipe every tear from their eyes. There will be no more death or mourning or crying or pain, for the old order of things has passed away." 5 He who was seated on the throne said, "I am making everything new!" Then he said, "Write this down, for these words are trustworthy and true." 6 He said to me: "It is done. I am the Alpha and the Omega, the Beginning and the End. To him who is thirsty I will give to drink without cost from the spring of the water of life.
4. In his vision, John saw a new heaven and a new earth. When will this new heaven and earth appear?
5. What will our new life be like when we live with God eternally in heaven?
Gospel:

John 13:31 When he was gone, Jesus said, "Now is the Son of Man glorified and God is glorified in him. 32 If God is glorified in him, God will glorify the Son in himself, and will glorify him at once. 33 "My children, I will be with you only a little longer. You will look for me, and just as I told the Jews, so I tell you now: Where I am going, you cannot come. 34 "A new command I give you: Love one another. As I have loved you, so you must love one another. 35 By this all men will know that you are my disciples, if you love one another."
6. Jesus spoke these words shortly after Judas left the upper room on the night he was betrayed. How then would Jesus be glorified?
7. Why is Jesus command to "love one another" a new command?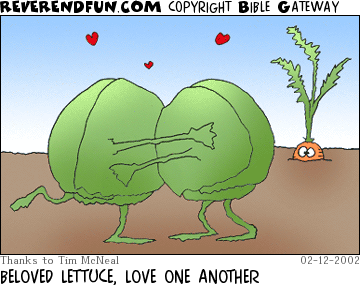 1. Jonathan and David were knit together in a tight bond of love (as dear friends, not in a sexual way).
2. Jonathan keeps talking about "the LORD," the God of free and faithful grace. Due to the LORD, Jonathan ha such care for David, whom the LORD had picked to take over Israel's throne after the death of Jonathan's father, Saul. Instead of envying David, as most men in line for a throne would have, Jonathan loved David, for the LORD's sake.
3. Jonathan asked David to show the mercy of the LORD toward Jonathan and his family.
4. John was given a preview of the new home God the Father is preparing for his people in heaven. This new home will appear on the Last Day. How comforting it is to know the glories of heaven that await us.
5. Since it is impossible to describe the perfection of heaven in human terms, John tells us what we will not see in heaven. There will be no death, mourning, crying, or pain.
6. Judas' betrayal began the chain of events that led to Jesus glorification. Jesus glorification included his crucifixion, resurrection, and ascension. Through these actions of Christ, we can see God's glory and give God glory. Through these same actions God gives all glory to his Son.
7. Jesus' command to love is not new. What is new is our motive for loving one another. The disciples will love because they know Jesus and what he has done for them. Jesus' sacrifice on the cross and the forgiveness it brings changes believers' hearts. In Christ we want to love, to sacrifice for others.
Putting your faith into action
The fifth Sunday of Easter reading from John 13 brings us a message – "Love one another" — that we can find in today's world repeated on pass-it-on cards, mugs, greeting cards, wall hangings, and figurines. The commercialism of this statement from Jesus found here and in other books of the Bible might water down the original message, or desensitize people to this "commandment." As we look more closely at this text, we also note the rest of this "new commandment": "As I have loved you, so you must love one another. All men will know that you are my disciples if you love one another." Modeling Christ-like love is how we, as his disciples, are to live our lives. Love is always giving and shows itself in unconditional acts of service. We "spend ourselves" for God and his church. We can love and serve because we are children of the Heavenly Father, who loved us so much that he sacrificed his only Son for our sins.
Wherever the Church is, there is the authority to administer the Gospel. Therefore, it is necessary for the Church to retain the authority to call, elect, and ordain ministers. This authority is a gift that in reality is given to the Church. No human power can take this gift away from the Church. As Paul testifies to the Ephesians, when "He ascended … He gave gifts to men" (Ephesians 4:8). He lists among the gifts specifically belonging to the Church "pastors and teachers", and adds that they are given for the ministry, "for building up the body of Christ". So wherever there is a True Church, the right to elect and ordain ministers necessarily exists. The statements of Christ testify that the Keys have been given to the Church, and not merely to certain persons, "Where two or three are gathered in My name …"
Finally, Peter's statement also confirms this, "You are … a royal priesthood". These words apply to the True Church, which certainly has the right to elect and ordain ministers, since it alone has the priesthood.
A common custom of the Church testifies to this. The people elected pastors and bishops. Then came a bishop, either of that church or a neighboring one, who confirmed the one elected by the laying on of hands. Ordination was nothing else than such a ratification. – Power and Primacy of the Pope, The Power and Jurisdiction of Bishops (paragraphs 67-70)
Hymns for this Sunday:
496; 497; 499; 492; 490
492 Son of God, Eternal Savior
1 Son of God, eternal Savior, Source of life and truth and grace,
Word made flesh, whose birth among us, Honors all our human race,
You our head, who, throned in glory, For your own will ever plead:
Fill us with your love and pity; Heal our wrongs and help our need.
2 Come, O Christ, and reign among us, King of love and Prince of Peace;
Hush the storm of strife and passion; Bid its cruel discords cease.
By your patient years of toiling, By your silent hours of pain,
Quench our fevered thirst for pleasure; Stem our selfish greed for gain.
3 Bind us all as one together In your Church's sacred fold,
Weak and healthy, poor and wealthy, Sad and joyful, young and old.
Is there want or pain or sorrow? Make us all the burden share.
Are there spirits crushed and broken? Teach us, Lord, to soothe their care.
4 As you, Lord, have lived for others, So may we for others live.
Freely have your gifts been granted; Freely may your servants give.
Yours the gold and yours the silver, Yours the wealth of land and sea;
We but stewards of your bounty Held in solemn trust will be.
Text: Somerset T. C. Lowry, 1855–1932, abr., alt.