Worship Helps for Pentecost 18
Artwork: Parable of the Unjust Steward
Worship Theme: Money rules in our materialistic society. We also must admit that God has richly blessed each of us with many physical blessings—far more than we deserve. How we handle those blessings, whether they be dollars or possessions, reflects our relationship with our God. May God move us to use all of his blessings in a way that pleases him, serves his purposes and helps others eternally.
Old Testament:

Genesis 14:8 Then the king of Sodom, the king of Gomorrah, the king of Admah, the king of Zeboiim and the king of Bela (that is, Zoar) marched out and drew up their battle lines in the Valley of Siddim 9 against Kedorlaomer king of Elam, Tidal king of Goiim, Amraphel king of Shinar and Arioch king of Ellasar-- four kings against five. 10 Now the Valley of Siddim was full of tar pits, and when the kings of Sodom and Gomorrah fled, some of the men fell into them and the rest fled to the hills. 11 The four kings seized all the goods of Sodom and Gomorrah and all their food; then they went away. 12 They also carried off Abram's nephew Lot and his possessions, since he was living in Sodom. 13 One who had escaped came and reported this to Abram the Hebrew. Now Abram was living near the great trees of Mamre the Amorite, a brother of Eshcol and Aner, all of whom were allied with Abram. 14 When Abram heard that his relative had been taken captive, he called out the 318 trained men born in his household and went in pursuit as far as Dan. 15 During the night Abram divided his men to attack them and he routed them, pursuing them as far as Hobah, north of Damascus. 16 He recovered all the goods and brought back his relative Lot and his possessions, together with the women and the other people. 17 After Abram returned from defeating Kedorlaomer and the kings allied with him, the king of Sodom came out to meet him in the Valley of Shaveh (that is, the King's Valley). 18 Then Melchizedek king of Salem brought out bread and wine. He was priest of God Most High, 19 and he blessed Abram, saying, "Blessed be Abram by God Most High, Creator of heaven and earth. 20 And blessed be God Most High, who delivered your enemies into your hand." Then Abram gave him a tenth of everything. 21 The king of Sodom said to Abram, "Give me the people and keep the goods for yourself." 22 But Abram said to the king of Sodom, "I have raised my hand to the LORD, God Most High, Creator of heaven and earth, and have taken an oath 23 that I will accept nothing belonging to you, not even a thread or the thong of a sandal, so that you will never be able to say, 'I made Abram rich.' 24 I will accept nothing but what my men have eaten and the share that belongs to the men who went with me-- to Aner, Eshcol and Mamre. Let them have their share."
1. Instead of sitting tight, to make sure he stayed safe and prosperous, what did Abram do?
2. What did Abram give to Melchizedek?
3. Why would Abram not take anything that belonged to the king of Sodom?
Epistle:

1 Timothy 6:6 But godliness with contentment is great gain. 7 For we brought nothing into the world, and we can take nothing out of it. 8 But if we have food and clothing, we will be content with that. 9 People who want to get rich fall into temptation and a trap and into many foolish and harmful desires that plunge men into ruin and destruction. 10 For the love of money is a root of all kinds of evil. Some people, eager for money, have wandered from the faith and pierced themselves with many griefs. 11 But you, man of God, flee from all this, and pursue righteousness, godliness, faith, love, endurance and gentleness. 12 Fight the good fight of the faith. Take hold of the eternal life to which you were called when you made your good confession in the presence of many witnesses. 13

In

the sight of God, who gives life to everything, and of Christ Jesus, who while testifying before Pontius Pilate made the good confession, I charge you

14 to keep this command without spot or blame until the appearing of our Lord Jesus Christ, 15 which God will bring about in his own time-- God, the blessed and only Ruler, the King of kings and Lord of lords, 16 who alone is immortal and who lives in unapproachable light, whom no one has seen or can see. To him be honor and might forever. Amen.
4. Why is godliness with contentment great gain? (See 6:7.)
5. Is money itself evil? (See .)
Gospel:

Luke 16:1 Jesus told his disciples: "There was a rich man whose manager was accused of wasting his possessions. 2 So he called him in and asked him, 'What is this I hear about you? Give an account of your management, because you cannot be manager any longer.' 3 "The manager said to himself, 'What shall I do now? My master is taking away my job. I'm not strong enough to dig, and I'm ashamed to beg-- 4 I know what I'll do so that, when I lose my job here, people will welcome me into their houses.' 5 "So he called in each one of his master's debtors. He asked the first, 'How much do you owe my master?' 6 "'Eight hundred gallons of olive oil,' he replied. "The manager told him, 'Take your bill, sit down quickly, and make it four hundred.' 7 "Then he asked the second, 'And how much do you owe?' "'A thousand bushels of wheat,' he replied. "He told him, 'Take your bill and make it eight hundred.' 8 "The master commended the dishonest manager because he had acted shrewdly. For the people of this world are more shrewd in dealing with their own kind than are the people of the light. 9 I tell you, use worldly wealth to gain friends for yourselves, so that when it is gone, you will be welcomed into eternal dwellings. 10 "Whoever can be trusted with very little can also be trusted with much, and whoever is dishonest with very little will also be dishonest with much. 11 So if you have not been trustworthy in handling worldly wealth, who will trust you with true riches? 12 And if you have not been trustworthy with someone else's property, who will give you property of your own? 13 "No servant can serve two masters. Either he will hate the one and love the other, or he will be devoted to the one and despise the other. You cannot serve both God and Money."
6. What is the main point of this parable of Jesus? (See 16:9‒12.)
7. How does Jesus further his point by saying "You cannot serve both God and money"?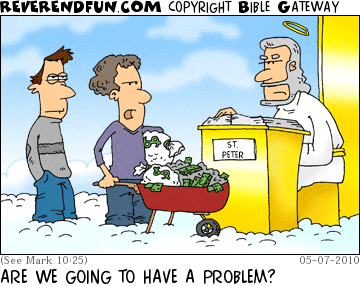 1. Abram went on a long, difficult journey to overtake and fight the kings who had defeated and plundered the cities of Sodom and Gomorrah. He saved his nephew Lot, Lot's family, and Lot's possessions in the process.
2. Abram gave God's priest, Melchizedek, a tenth of everything. (Giving a tenth of our income to God today is not a requirement, nor do we know that it was in Abram's day. But what a stellar sign of gratitude to God, trust in God and generosity!)
3. Abram would not take anything because he did not want the king of Sodom to be able to claim that he had made Abram rich. (God had made Abram rich. Today too: All wealth comes from God.)
4. Godliness with contentment is great gain, Paul says, because we brought nothing into this world and we can take nothing out.
5. Money is not evil. The love of money is a root of all kinds of evil. In Paul's picture, running after money will lead now and forever to similar results as running headlong into a drawn sword.
6. Jesus tells this parable to encourage us to make good use of our money. How we use the money and possessions that God has given is a fruit of faith and will reflect our relationship with him. By keeping an eternal perspective on the blessings God has given, we will use them to serve his purposes and to support his kingdom here on earth, knowing God will reward us forever.
7. Worldly wealth and possessions are given by God to be used in his service. The God who gives the money must always be more important than the money that he gives.
Putting your faith into action
Jesus was fond of using parables involving money in order to teach spiritual truths. Think of the unmerciful servant, the talents, the workers in the vineyard. Here, however, Jesus uses a parable involving money to actually address the way Christians use their money. Get a clue from the unbelieving world! Be wise with your money! It's valuable! Not, however, in the way the unbeliever values it, as a master he serves. It's valuable, rather, as a means of proclaiming God's means of grace. The money that we give to the Lord through the church enables the seminary student to devote his time to study, the missionary to make the evangelism call, the daughter congregation to rent a place to worship. God gives us temporary riches to use wisely, so that we might use them to give eternal riches.
I beg you all for God's sake, my dear sirs and brethren, who are pastors or preachers, to devote yourselves heartily to your office. Have pity on the people who are entrusted to you and help us teach the catechism to the people, and especially to the young. And let those of you who cannot do better take these tables and forms and impress them, word for word, on the people…
Although we cannot and should not force anyone to believe, we should insist and encourage the people. That way they will know what is right and wrong for those among whom they dwell and wish to make their living. For whoever desires to live in a town must know and observe the town laws, because he wishes to enjoy the protection offered by the laws…
After they have learned the text well, teach them the meaning also, so that they know what it means. In particular, urge the commandment or part that most suffers the greatest neglect among your people. For example, the Seventh Commandment, about stealing, must be strongly urged among mechanics and merchants, and even farmers and servants. For among these people many kinds of dishonesty and stealing prevail. You must always offer many examples from the Scriptures to show how God has punished or blessed such persons. – The Small Catechism, Preface by Dr. Martin Luther (paragraphs 6, 13, 17-18)
Hymns: 480; 421; 311; 484
1 Brothers, sisters, let us gladly
Give to God our all, our best—
Service hearty, thorough, honest,
With a living love impressed.
All our duty, all our striving,
All our time to him belong;
Praise him, then, with true devotion;
Come before him with a song.
2 By his mercy, by his bounty,
By the gift of Christ, his Son,
What great goodness he has shown us,
What high marvels he has done!
Let us to him promptly, freely,
Yield our bodies and our souls,
Thankful that his love protects us,
That his wisdom all controls.
3 Gracious Lord, accept our service
For the sake of Christ, your Son;
Lo, our hope abides now only
In the righteousness he won.
Bless and save us; help and guide us;
Watch to comfort and restore
Till in heav'n we rest rejoicing,
Praising you forevermore.
Text: Henry Bateman, 1802–72, alt.