Worship Helps for Pentecost 22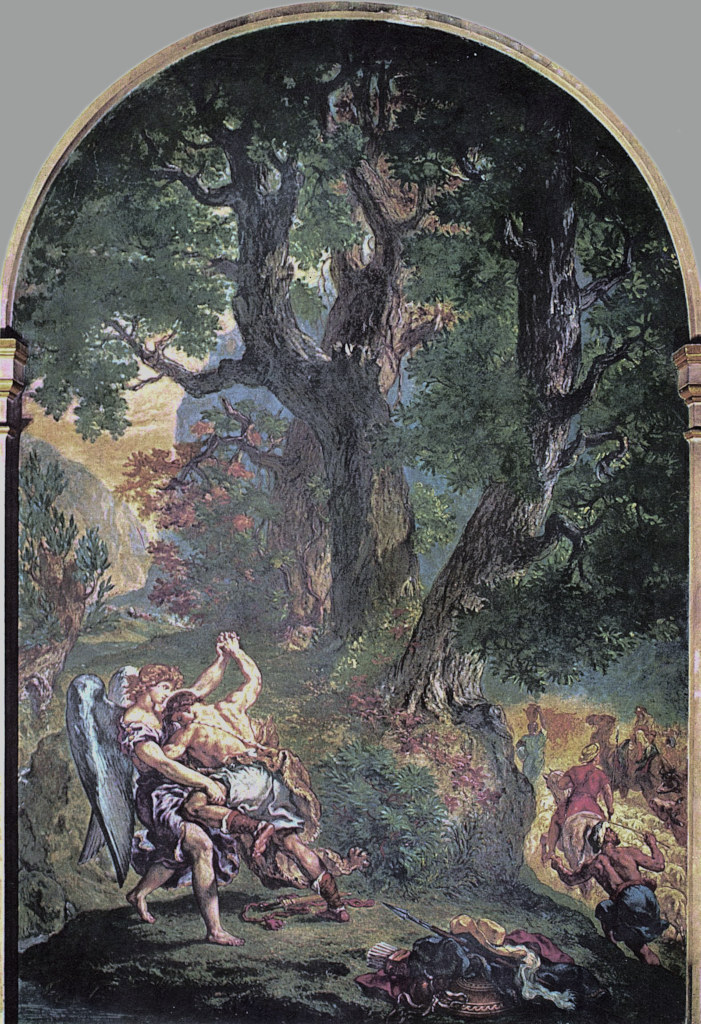 Artwork: Jacob Wrestling with the Angel
Worship Theme: Pray? Of course. God commands us to pray the way Jesus taught us and promises to hear us. But to pray even when God does not seem to be coming through for you and others for whom you pray―really? "Pray continually" (1 Thessalonians 5:17), God says. Isn't that unrealistic? Especially when no answers seem to come? Our lessons today teach us to pray persistently for Jesus' sake.
Old Testament:
Genesis 32:22
That night Jacob got up and took his two wives, his two maidservants and his eleven sons and crossed the ford of the Jabbok. 23 After he had sent them across the stream, he sent over all his possessions. 24 So Jacob was left alone, and a man wrestled with him till daybreak. 25 When the man saw that he could not overpower him, he touched the socket of Jacob's hip so that his hip was wrenched as he wrestled with the man. 26 Then the man said, "Let me go, for it is daybreak." But Jacob replied, "I will not let you go unless you bless me." 27 The man asked him, "What is your name?" "Jacob," he answered. 28 Then the man said, "Your name will no longer be Jacob, but Israel, because you have struggled with God and with men and have overcome." 29 Jacob said, "Please tell me your name." But he replied, "Why do you ask my name?" Then he blessed him there. 30 So Jacob called the place Peniel, saying, "It is because I saw God face to face, and yet my life was spared."
1. Jacob feared that his brother Esau would attack him and his family. What happened when Jacob was left alone that night?
2. What did Jacob say when the man had to go? (See 32:26.)
3. Why did Jacob call that place "face of God"? (See 32:30.)
Epistle:
1 John 5:13
I write these things to you who believe in the name of the Son of God so that you may know that you have eternal life. 14 This is the confidence we have in approaching God: that if we ask anything according to his will, he hears us. 15 And if we know that he hears us-- whatever we ask-- we know that we have what we asked of him.
4. St. John teaches us that knowledge leads to confidence in our prayer life. How are they connected?
5. What does that confidence lead us to deduce? How can that be?
Gospel:
Luke 18:1
Then Jesus told his disciples a parable to show them that they should always pray and not give up. 2 He said: "In a certain town there was a judge who neither feared God nor cared about men. 3 And there was a widow in that town who kept coming to him with the plea, 'Grant me justice against my adversary.' 4 "For some time he refused. But finally he said to himself, 'Even though I don't fear God or care about men, 5 yet because this widow keeps bothering me, I will see that she gets justice, so that she won't eventually wear me out with her coming!'" 6 And the Lord said, "Listen to what the unjust judge says. 7 And will not God bring about justice for his chosen ones, who cry out to him day and night? Will he keep putting them off? 8 I tell you, he will see that they get justice, and quickly.
6. Why did the unjust judge in Jesus' story finally give in and help the helpless widow?
7.
Is Jesus saying that God is like the unjust judge? (See 18:7.)
8. Why did Jesus wonder whether he will find faith on the earth when he comes? (See 18:8.)
1. When Jacob was left alone that night, a man wrestled with him until daybreak.
2. Jacob said, "I will not let you go unless you bless me." (What a model for us as we pray! God had promised to bring Jacob home safely. Likewise, when God has made us promises in his Word, we cling to them no matter how things look. We hang onto God in prayer tightly).
3. Jacob called that place Peniel (Hebrew for "face of God"), because Jacob knew the man he had wrestled with was God himself.
4. & 5. The believer's persistence in prayer is rooted in the fact that since we believe in the Son of God we know that we have eternal life. We don't wonder about it. We don't hope that it might possibly happen. We know it for a fact. Certainty of eternal life frees me to ask God for things only according to his will. For if God's will is for me to enjoy eternal life forever, well then I can certainly trust his will in regards to the requests I lay before him. Think of the twin promises of God regarding prayer: He promises to hear, and he promises to answer according to his will. Knowing that, we can pray with confidence because a request given to God is one that will be fulfilled in the way that's best for us.
6. The crooked judge did not fear God or care about people, but he finally gave in and helped the helpless widow because she was wearing him out with her requests. By granting her request he could get rid of her.
7. No, Jesus is not saying that God is like the unjust judge. God is the most just Judge. Jesus means that since even a crooked judge would help a widow because of her persistence, our Father will certainly help his chosen children who keep crying out to him?
8. Jesus seems to be saying that in the last days, God will seem not to answer prayers to him for help. Things will be terrible. Many will give up trusting in Jesus. Relatively few will be saved. May his Holy Spirit keep us in faith through his Word!
Putting your faith into action
"I can't." "We can't." Those words were not in Jacob's vocabulary anymore. He had gone from being the "Trickster" to the "Struggler." The Lord never promises an easy road to the goals he gives us in our lives. Don't let go of the Lord and his promises. He assures us that his blessing is upon us even as we limp along in life.
Praying, as the Second Commandment teaches, is to call upon God in every need. He requires this of us and has not left it to our choice. But it is our duty and obligation to pray, if we would be Christians, just as it is our duty and obligation to obey our parents and the government. For by calling upon God's name and praying, His name is honored and used well. This you must note above all things, so that you may silence and reject thoughts that would keep us from prayer. Prayer is not left to my will to do it or leave it undone, but it shall and must be offered at the risk of God's wrath and displeasure.
‹Cast away the thoughts that would keep us from praying, as though it does not matter if we do not pray, or as though prayer was commanded for those who are holier and in better favor with God than we are. The human heart is by nature so hopeless that it always flees from God and imagines that He does not desire our prayer, because we are sinners and have earned nothing but wrath. Against such thoughts we should remember this commandment and turn to God, so that we may not stir up His anger more by such disobedience. He will not cast us away. This is true even though we are sinners. But instead He draws us to Himself, so that we might humble ourselves before Him, bewail our misery and pray for grace and help. – Large Catechism, Part III The Lord's Prayer (paragraphs 8-11)
Hymns: 484; 391; 311; 616
1 Brothers, sisters, let us gladly
Give to God our all, our best—
Service hearty, thorough, honest,
With a living love impressed.
All our duty, all our striving,
All our time to him belong;
Praise him, then, with true devotion;
Come before him with a song.
2 By his mercy, by his bounty,
By the gift of Christ, his Son,
What great goodness he has shown us,
What high marvels he has done!
Let us to him promptly, freely,
Yield our bodies and our souls,
Thankful that his love protects us,
That his wisdom all controls.
3 Gracious Lord, accept our service
For the sake of Christ, your Son;
Lo, our hope abides now only
In the righteousness he won.
Bless and save us; help and guide us;
Watch to comfort and restore
Till in heav'n we rest rejoicing,
Praising you forevermore.
Text: Henry Bateman, 1802–72, alt.